Chapter 6
1995-2008
Business Teams, Inhibitors, Biocides,
and Buyouts
The end of a family business
In the mid-1990s the company was enjoying a period of relative stability at board level, when the executive board comprised Gary Duke (Operations), Ian McRobbie (Technical), Ed Sharkey (Commercial), and John Marsden (Finance) – all reporting to Rhys Marks in his role as managing director. The company was flourishing despite an increasingly competitive market. After the recession of the early 1990s. and with the development of genetically modified crops which no longer relied on herbicides, the international agricultural chemical industry continued to rationalise as prices fell and margins diminished. Marks was faced with larger, more aggressive competitors and also had to change long-standing distribution arrangements as existing distributors were acquired by rivals. Yet the company sustained turnover, restored profits and began an investment programme which would increase the value of Marks' net assets from £18 million to £40 million in a decade.
A significant part of this investment was focused on physical improvements to the site and expanding the skills of the workforce. This was part of an overall strategy of increasing efficiency and reducing costs to remain competitive in a consolidating industry while helping to satisfy the regulators and the concerns of local people.A local liaison group of residents and company managers was formed and links with the general public strengthened.
In 1994 a major drain management scheme was completed and all storage areas were bunded, sealing the site against major leaks. The local electricity company, Yorkshire Cogen, opened a combined heat and power (CHP) plant on the site in 1996. The agreement was particularly attractive as the installation was at no capital cost to A H Marks but included the transfer of the assets to A H Marks after 20 years. While meeting the site's entire electricity needs, it also used waste heat to generate sufficient steam to heat every present and predicted plant on the site and reduced the level of emissions.The primary fuel for the CHP plant was gas but facilities to use oil in the event of a gas shortage or economic change were also provided. Sufficient steam was produced at 12.5 barG pressure (approx 190oC) to provide the heating for all the current and envisaged plants, plus 4.2 MWatts of electricity. The environmental benefits of the plant were significant as it was often quoted that a conventional fossil fuel burning power station only converts 25 per cent of the available energy in the fuel into useful power, whereas a CHP plant converts 75 per cent as a product of utilising the steam generated.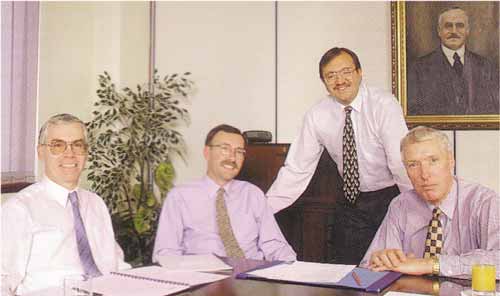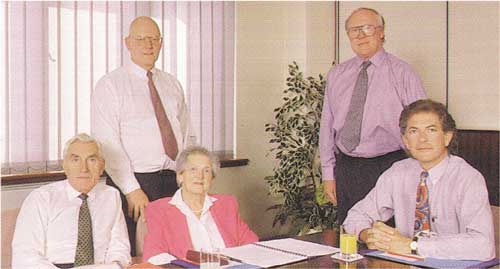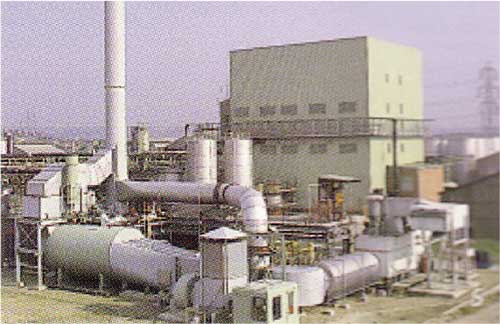 Any surplus energy was directed to the National Grid. A biological waste-water treatment plant was commissioned in 1997 but only as a pilot plant and the experiment was never taken any further. Continuous improvements were made to manufacturing plant, resulting each year in reduced energy consumption, emissions and odour. For these and other environmental improvements, including the development of a nature reserve, the company received the Yorkshire Wildlife Trust's Environmental Strategy Award in 1997.
In the same year, the company also achieved accreditation for ISO 14001 (Environmental Management Systems) to complement its existing accreditation to ISO9001, the quality standard and registration for EMAS (Eco Management & Audit Scheme). Marks was one of the few chemical companies in EMAS and only the thirty-sixth company in the country to gain registration. Requiring the publication of an annual externally verified audit statement, it enabled the company, by demonstrating thorough self-examination, to set its own priorities for improvements rather than responding to the recommendations of the Environment Agency. The company was recognised as an industry leader for environmental improvements and received the Kyoto Cup in 2000 for energy and environmental management. Part of the Industry Energy Awards, this recognised Marks' success in reducing greenhouse gas emissions by more than 70 per cent between 1992 and 1999.
Increasing efficiency by investing in new plant and improving existing plant changed the composition of the workforce.With increasing automation, and less need for as much low skilled labour, it became important for those who were employed to become better qualified, better skilled and capable of working closely together in small teams. For instance, personnel had to be trained for the process laboratories attached to each plant, engineering staff required more training and highly skilled staff were essential for the company's enhanced research and development and product support functions. From 1996, after a major investment in computer systems, Lotus Notes software became available for the first time to every employee, giving access to electronic internal mail. This was followed by another key IT project, the implementation of the Enterprise Resource Programme, which began to reach fruition in 2000 and became fully operational by late 2002. The achievement of Investors in People accreditation in 1999 – and its continuous renewal – recognised this improved approach towards the training and development of the company's employees. One benefit of the multi-million pound investment programme was much better changing accommodation for 300 shift workers as part of a new two-storey laboratory and amenities block officially opened in January 1998. The main changing block for the site, clearly visible in photographs from the middle of the twentieth century, were finally sealed up and then demolished in 1999.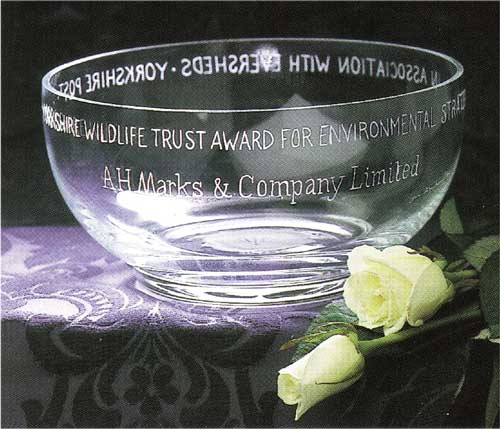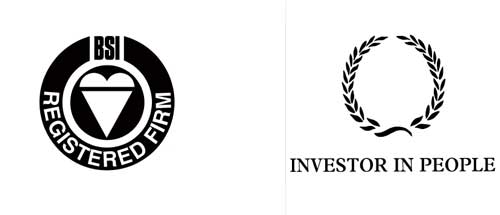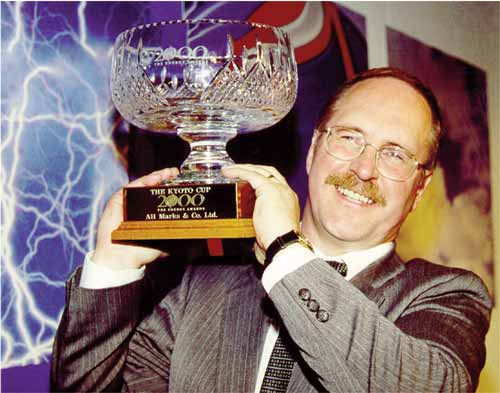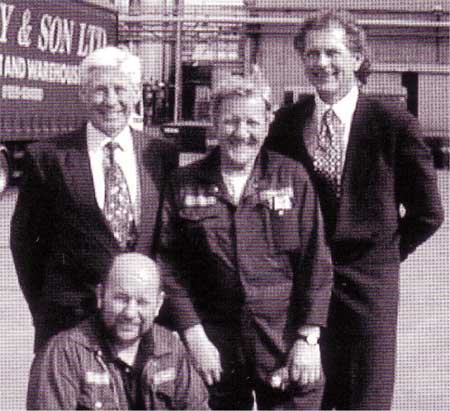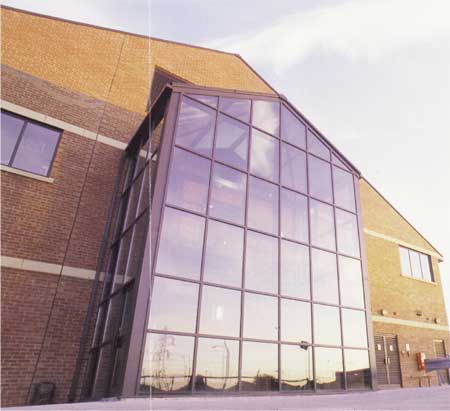 In terms of production, much of the investment was focused on fine chemicals to counteract the squeeze on agricultural chemicals. Sales of fine chemicals accounted for a quarter of turnover and the company was supplying them to a wide range of industries all over the world. By the late 1990s there were nine fine chemicals plants at Wyke, compared with two 20 years earlier. For instance, part of the space vacated by the oxynil plant was taken up by new fine chemical production facilities. Sales of fine chemicals rose to account for a quarter of the company's turnover, being supplied to a wide range of industries all over the world.
The summer of 2000 also saw the start of the manufacture of the first biocide on site, butyl BIT, albeit it as a contract manufacture for Avecia, which later became part of the Arch group of companies. Phenoxy acetic acid is a product that A H Marks had been trying to produce with only limited commercial success since the mid-1980s.The annual tonnage had peaked at just over 400 tonnes in 1995, but had fallen to below 50 tonnes in the final years of the twentieth century. In 2000 the decision was taken to withdraw from manufacturing this product.
The company was constantly looking for new opportunities in this field to reduce its vulnerable position as a single site agriculture herbicide manufacturer operating in a mature and volatile market. One of these opportunities was the development of the polymerisation inhibitor business. Styrene was widely used in a variety of products, such as synthetic rubber, and production was rising around the world, particularly in the Far East. Inhibitors were important because they prevented the production flow in styrene plants from breaking down because of the effect of polymerisation. In the mid-to late 1990s the company undertook the serious development of its polymerisation inhibitors business. This arose from the discovery that one of the company's old nitro agrochemical compounds, DNBP (dinoseb), worked effectively as a polymerisation retarder for styrene.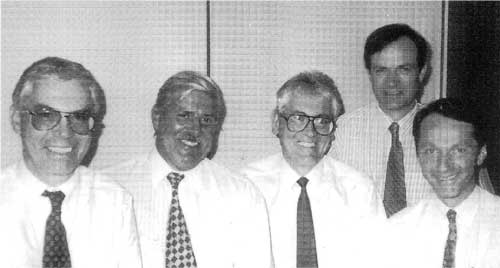 This discovery was a lifeline for DNBP, as it had been largely withdrawn from use as an agrochemical in the late 1980s. With this existing technical expertise, the company developed a specific range for the market. At first Shell was the only company to use DNBP as a polymerisation retarder but others followed, notably Dow, with which Marks developed a close and positive relationship. By 2000 several thousand tonnes per annum of DNBP produced by the company in plant 34 was being supplied to the styrene manufacturing industry and none for agricultural application.
In 1995 Dow was regularly supplied with DNBP by two companies,A H Marks and the French firm, SNPE. As a consequence of a major DNBP spillage from an SNPE tanker on a Dow site, Dow decided that it no longer wanted to use this highly toxic chemical and instead replaced it with hydroxy tempo, which was at that time supplied by Nalco. Marks benefited from Dow decision since the company was asked to develop two related inhibitor compounds.These were 4-hydroxy tempo, first manufactured in 1997 on plant 46, and offered alongside DNBP, and then the lower cost oxo-tempo, which was first manufactured two years later.The inhibitor business grew into a significant proportion of the company's business. By 2008 inhibitors accounted for annual sales of some £10 million.
The company utilised its knowledge of styrene manufacturing to move from the supply of basic products to the provision through a newly established technical services team of tailor-made solutions for individual customers. Marks renamed this side of its business Performance Chemicals and became the leading player in the Asian market and a major force in Europe, achieving significant annual sales during the 1990s.
In developing new business for the first time from within own resources, Marks was moving away from process development (making existing recipes as efficiently as possible) towards creating a broad scientific base for new products. Using new technology, working beyond existing boundaries, developing vision and leadership, Marks had focused not on the pure chemistry involved in making inhibitors but on the applied chemistry needed to create a product that was practical, effective and commercial.This led to close links with Bradford University. Research facilities with the University were established in 1996 and the company sponsored a lectureship in physical organic chemistry. In January 1998 a new analytical services laboratory, housing up to 50 research scientists, enabling research and development to grow along with the company, was opened by Professor David Johns, the University's Vice-Chancellor. Links continued to be made with other universities through the sponsorship of visiting lecturers or the endowment of prizes. Within the company science was no longer viewed principally as organic chemistry but as an inter-disciplinary process involving biosynthesis, mathematical modelling, genetic engineering, physical chemistry and molecular biology. In 1999 Marks pioneered the appointment of a Knowledge Manager to develop the company's acquisition, management and dissemination of knowledge.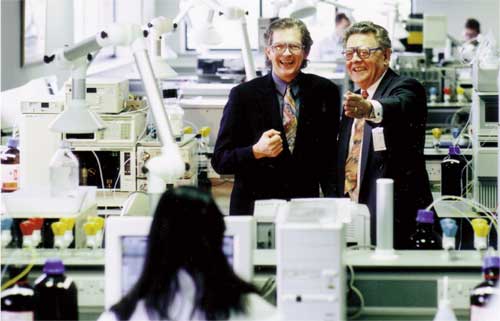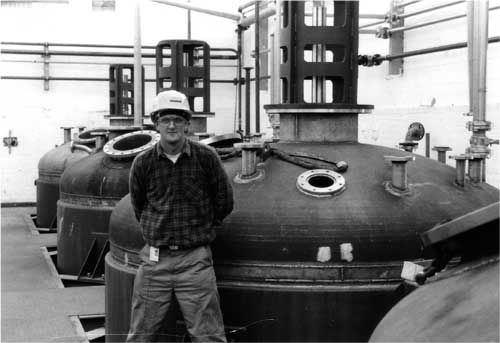 All of this was part of a strategy to place a value on the potential of the company's intangible intellectual assets and create intellectual property protected by patents for commercial exploitation. The directors, supported by shareholders, intended that this aspect of the business should outstrip the company's existing base within a decade, funded by profits from the firm's fine chemicals and agricultural herbicide businesses.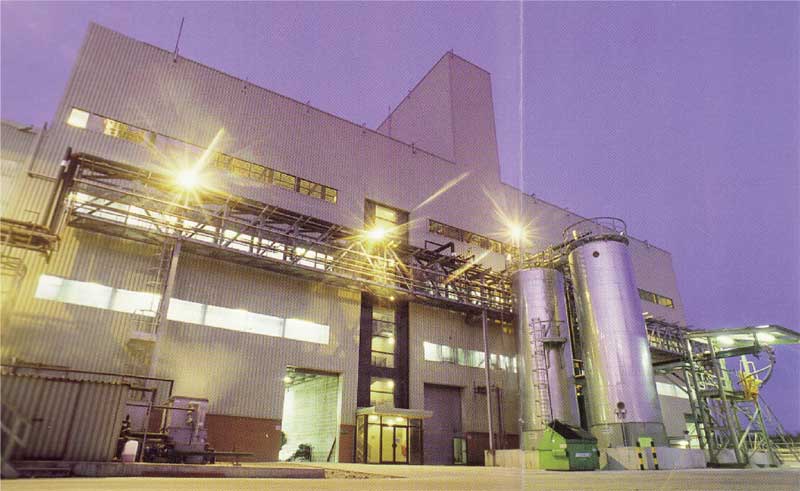 With agricultural chemicals still accounting for the major part of the company's output, investment was critical to prevent Marks from falling behind its major competitors. A case in point was the need to increase PCOC production capacity and to secure supplies of another major raw material, 2,4-DCP. Millions of pounds were invested to achieve to increase PCOC capacity supporting the infrastructure required for 2,4-DCP and to revive the production of a recently discontinued raw material, 2,4-D, and a number of other technical acids.The new DCP plant came on line during 1997. Referred to as plant 27E, with the E standing for 'extension', it was the largest building on site, standing 36 metres high to the top of the tower, with some two thirds of the internal space left unused for potential future expansion. This investment proved opportune. The firm supplying phenoxies to the giant multi-national group BASF was acquired by one of BASF's rivals. Instead, BASF negotiated a minimum ten-year Toll Manufacturing Agreement (TMA) with Marks with effect from July 2000. BASF had been impressed not only by Marks' integrated modern plant and technical competence but also by its stable private ownership and ethics. The TMA required Marks to make further investments at Wyke and the BASF plant was opened by the German ambassador in November 2000.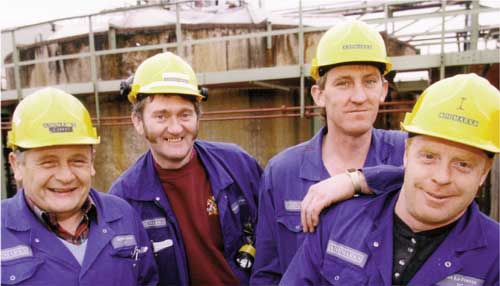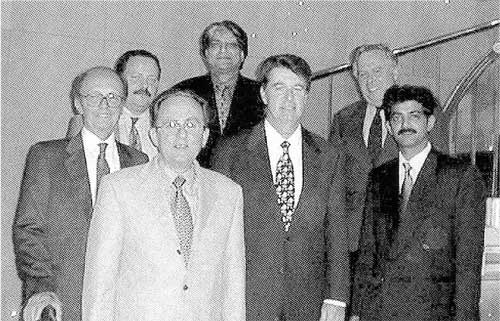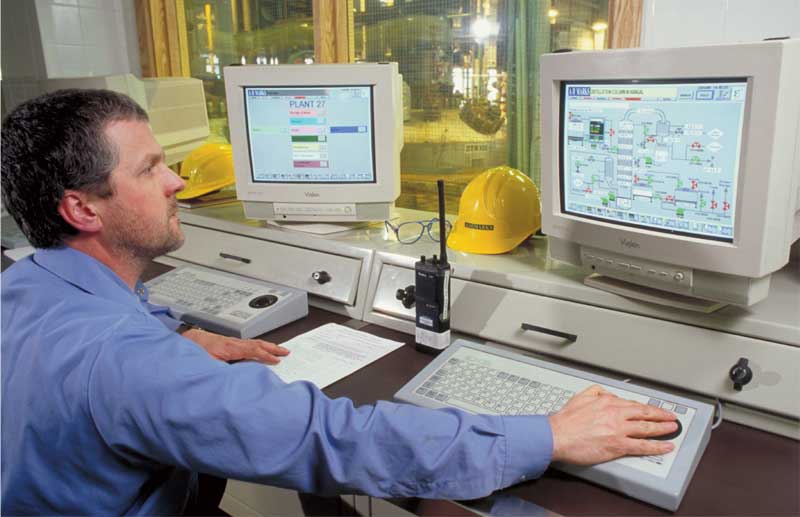 The agreement to supply LCPA to Zeneca came to an end in 1999 when the business merged with the Swedish firm Astra. Forming Astra Zeneca, the group sold off its specialities side. Renamed Avecia, this was eager to continue its relationship with Marks and in 2001 Marks paid Avecia £550,000 for the exclusive rights to manufacture and supply LCPA in all markets. This brought to an end the complicated arrangement that started nine years previously by which ACPA had been manufactured at Wyke in plant 39 and then transported to the Zeneca site at Huddersfield, where it was converted into a crude form of LCPA in their South Azo plant.This crude material was returned to Wyke and purified first in plant 44, and then in plant 46, before being despatched to German or Japanese customers on behalf of Zeneca.The South Azo plant at Huddersfield was old and in a poor state of repair. Removing AH Marks's reliance on this plant and installing LCPA conversion facilities atWyke was seen as a sound strategic move.The LCPA plant atWyke, plant 39L, came on line during 2002.As part of the installation, the equipment in bays five and six of plant 39 was removed.This equipment, which had produced some small-scale products such as SPA and EPDC, had not been used for a number of years. The company had already begun manufacturing butyl BIT, the first biocide made at Wyke, during the summer of 2000.
During 2002 another contract came to end after eight years.This was the production of a detergent known as Berol 563, used in jet washes used for cleaning commercial vehicles. The manufacture had been carried out in plants 44 and 46 for Akzo Nobel, and over the years a total of around 7,000 tonnes was produced.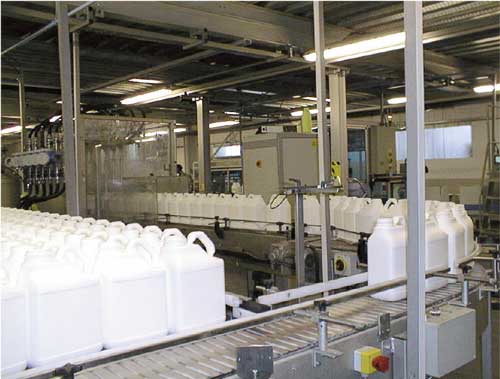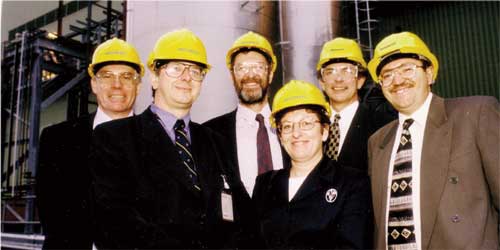 Between 1996 and 1998 £25 million was invested in Wyke. This was an enormous sum for the company and the cost of financing it began to take its toll at a time of high interest rates. After seven consecutive profitable years the company made a loss of £800,000 in 1998-99 as the expected rise in sales failed to materialise. Yet the company returned to profit in 2000, making £2.7 million, and the strategy of developing a knowledge-based business continued. During that year the company carried out the biggest internal reorganisation it had ever undertaken. This was designed to change the way in which people applied their existing knowledge and expertise. Four major business teams were established: Agricultural Chemicals, covering 80 per cent of the company's business; Intermediates, dealing with the remaining 20 per cent; Chlorates, focusing on the internal supply of raw materials; and General Services, covering utilities and other aspects of the site. As operations director, Gary Duke was in overall charge of the teams. In addition, a development group was formed out of the former technical and commercial departments to concentrate on the development of intellectual property. In 2000 company also appointed a new non-executive director, Gordon Barker, to the board. At the end of the year, in December, the death was announced of Mrs L M A Marks, who had fought so hard to keep the business going after the premature death of her husband.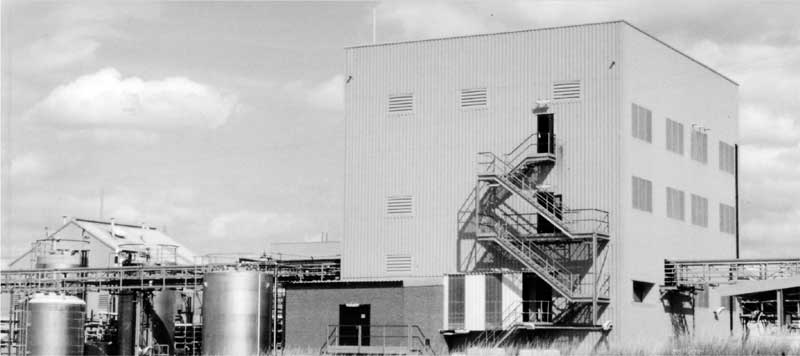 The profits made in 2000 seemed to herald a prosperous future but instead the company recorded a huge record loss of £7.4 million in 2001. The massive investment made in new plant had coincided with a deteriorating exchange rate, affecting nearly three-quarters of the company's business, and a collapse in trade. There were more specific factors. A H Marks had signed aToll Manufacturing Agreement with BASF, under which all of BASF's optical phenoxies would be manufactured from LCiB on the Wyke site. To facilitate this, further significant investment in plant and equipment was made, resulting in plant 37 coming on line during 2000. The heavy investment made in the BASF plant proved uneconomic for BASF never took the volume of optical phenoxies envisaged when the supply agreement was signed.The costly internal reorganisation proved a hindrance rather than an advantage with the separation of commercial activities into Agricultural and Intermediate divisions diluting the company's commercial acumen and creating unhelpful boundaries within the business.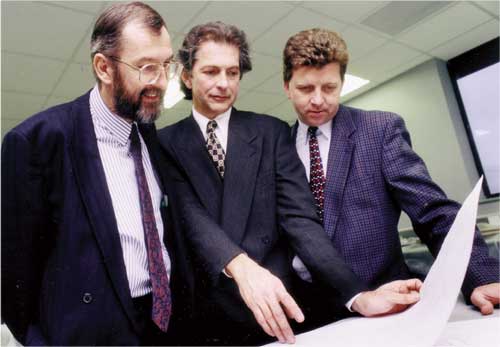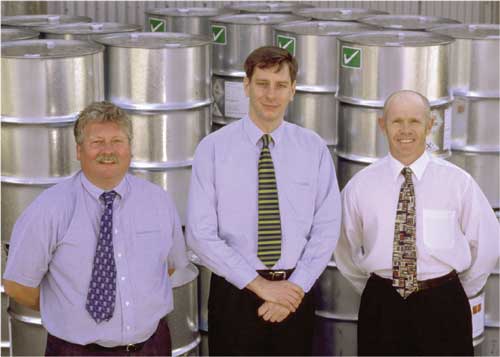 The Business Teams were broken up and the old functional organisation reinstated.The cost in terms of jobs was also significant and painful, and there were widespread redundancies throughout the company. Perhaps paying the cost of having supported the BusinessTeam concept so strongly, Gary Duke left and was later replaced in the short term by Ian McManus as Operations director for a short period.
It was a tense time. Gordon Barker had taken the role of chairman. Under stress, Rhys Marks suffered a stroke which left him incapacitated during a critical period. Although the reorganisation was reversed, it was accompanied by the departure of several experienced managers and their replacement by new recruits who often had little appreciation of or commitment to the business. Several senior directors moved on or retired and there was a lack of continuity among their successors although a new managing director, Ian McClelland, from the chemical group Clariant, was appointed in 2002. Several other changes were made. David Moffat took over as operations director while Ian McManus left, as did Ian McRobbie, Ed Sharkey and John Marsden. Gary Collinson was promoted to the board as finance director and Tony Stocker and Mark Goddard were made business directors, Stocker with responsibility for intermediates and inhibitors, Goddard for the larger agricultural chemical business. Gordon Barker subsequently stepped down as executive chairman and was succeeded by Robin Lee in a non-executive capacity.
The pursuit of efficiency under financial pressure resulted in the overhaul of working practices. To reduce absenteeism and help the plants to run all year round, David Moffat introduced a five shift system during 2004.This put an end to the traditional three week long summer shutdown. At the same time, to improve skills, National Vocational Qualification courses were introduced. Aimed initially at process workers and line managers, they were extended to warehousing and distribution staff in 2007.
Retrenchment brought an end to the manufacture of several well-established products. Among them were the light sensitive diazo intermediates, produced for Agfa, and the range of picric, picramic and picramate dyestuffs. Unable to compete with lower production costs in China and India, the company could no longer afford to sustain its historic links with explosives which thus came to an end.
But attempts continued to develop and diversify the company's production even under these testing circumstances. During 2003 Marks began making and selling a range of chlorinated phenol intermediates. Produced in plant 27 using the same equipment as DCP, this raised a number of challenges.The 2CP and 4CP businesses never really took off, and sales volumes were disappointing over the following few years as internal demand for DCP meant that supply to customers of the monochlorinated products was erratic and unreliable. On the other hand, TCP was also produced in plant 27 for the first time, and this did result in significant production and sales. Initially there were problems in purifying TCP by distillation but through outstanding technical work a cleaner chlorination process was developed which eliminated any need for purification.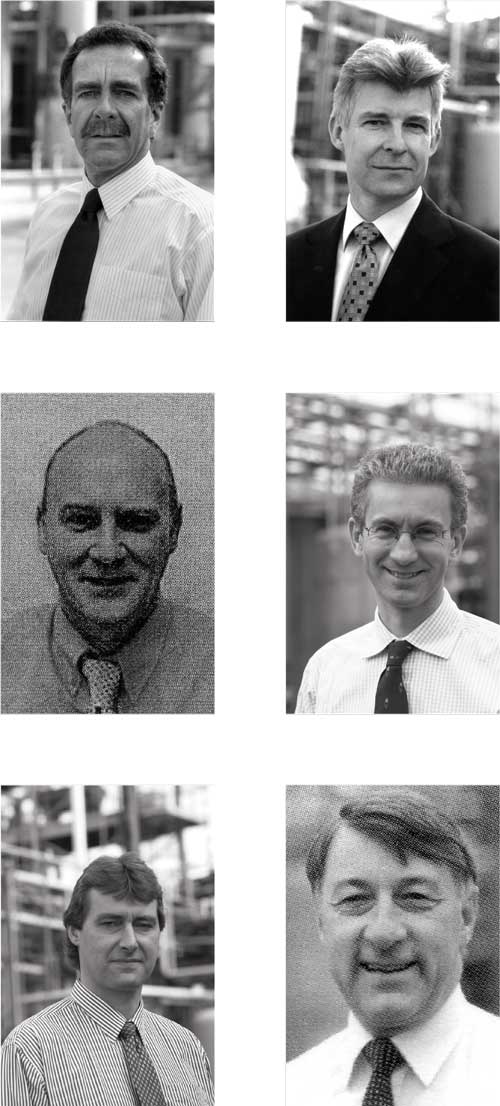 This also had the huge advantage of allowing the plant to produce and distil DCP at the same time as making TCP. TCP was supplied as a 40 per cent sodium salt solution to Bayer in Widnes until the site closed in 2008.
In 2005 Marks had also decided to begin making fenoxaprop-p-ethyl, a high value modern herbicide manufactured from RHPP, itself a derivative of LCPA. Fenoxaprop was first made atWyke in late 2006, with production of RHPP starting a year later, and proved extremely successful.
Through Ian McClelland's previous experience at Clariant, the company also began manufacturing biocides, seeking to fill the gap arising from Clariant's phased withdrawal from this market. The products made at Wyke included IMDU, DMDMH, PCMX, DCMX and Chlorophen but it proved unexpectedly difficult for Marks to establish itself as a supplier and this episode ended in 2006.
During this period, as a result of breaching its banking covenant, the business effectively came under the control of the bank. But pressure from the bank only increased as Marks made recurring annual losses and found it almost impossible to bring down its debts. In the absence of Rhys Marks,who was still convalescing,the bank persuaded other members of the board to refinance the business through a hastily put-together management buyout (MBO) in October 2005. Rhys Marks came under pressure to give up a significant part of his controlling shareholding and was told that refusal would be likely to lead to the collapse of the business.The buyout, which left him with 22 per cent of the business and no longer a part of it, preserved the bank's position and strengthened the shareholdings of the other buyout members in return for a minimal investment in the business.
The MBO did little to solve the problems of the business. On the one hand, the MBO had been financed in part by the sale and leaseback of theWyke site but this cash injection left little money for investment after paying back debt and was counterbalanced by the significant annual rental. On the other, the consolidation of the market continued, the world economy became increasingly globalised, results were still adversely affected by a poor exchange rate and low margins, and most of the new products developed by the company proved short-lived. With exports accounting for 90 per cent of Marks' £63 million in 2007, the company's financial position made it impossible to invest in further global opportunities and meeting rising competition.
In March 2008, after losses over the previous four years totalling £9 million, the executive board of A Stocker, M Goddard, I McClelland and G Collinson agreed to sell Marks to Nufarm in preference to several other bidders. Nufarm was an Australian business, founded by Doug Rathbone, whom Rhys Marks had known for many years. Nufarm grew rapidly after becoming a publicly quoted company, raising funds for acquisitions around the world.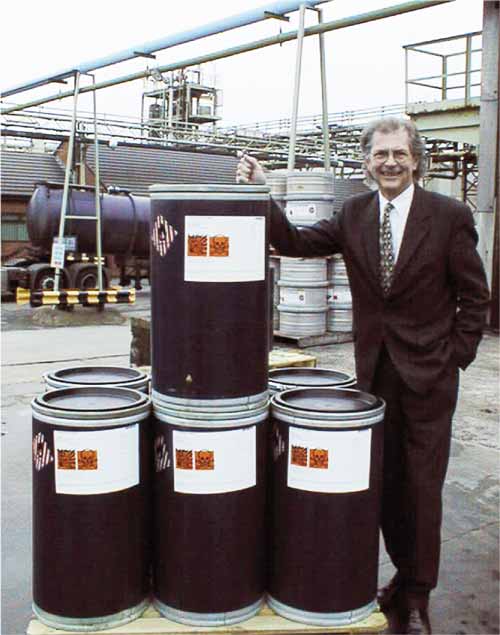 Among these was BASF Agricultural Chemicals, which Marks supplied with phenoxies, turning Nufarm into a customer as well as a competitor of Marks and making the company an even more attractive acquisition target. Not only was Marks a similar business, it came with considerable accumulated technical knowledge, in itself a valuable intangible asst, and, as a result of industry consolidation, had become Nufarm's only supplier of optical phenoxies. Taking all this into account made it possible for Nufarm to make a generous offer for the business.There were competition issues involved in the acquisition and the Office of Fair Trading referred the deal to the Competition Commission which concluded that there was no reason it should not proceed. Today Wyke is the largest site operated by Nufarm, which had continued manufacturing at the site and retained the remaining employees.
The company had journeyed a long way since Samson Breaks formed his own business to supply the needs of the local textile industry. With limited technical expertise, employing old and well-tried methods of production and concentrating on the manufacture of picric acid for use as an explosive, the business only really flourished in wartime. After the disastrous explosion of 1917, it was kept alive thanks only to the persistence and determination of Augustus Marks. After the end of the Second World War, it was his son's adaptation of the nitration processes so familiar to the business for the manufacture of the new generation of agricultural herbicides that secured the company's immediate post-war future. Yet while the relationship with Amchem and its successors was a major influence upon the business for 30 years, Marks was characterised for much of that time by a conservative attitude to capital investment. Reliance on a bank overdraft to finance its seasonal business held back its progress. Expansion was also limited because the profits to be made from the formulation of products developed by one company and marketed by another were small. Without these constraints fine chemicals business, which began in 1959, would have progressed much more rapidly. During the late twentieth century the company began transforming itself from a small producer of agricultural herbicides into a significant manufacturer of a broad range of high quality agricultural and fine chemicals. Ironically, it was the substantial capital investment this required which made the company vulnerable to an economic downturn and volatile exchange rates before the transformation could be completed. Despite the commitment of the Marks family to the future of the business,it was ultimately reliance on bank borrowings which brought almost a century of family ownership to an end.The independence which the family had fought so long and hard to maintain had been a strength – the company was the sole survivor of a once flourishing chemical industry in the Leeds-Huddersfield-Castleford area – but also proved to be a weakness – in the last resort Marks was left behind by the very consolidation which had eliminated so many of its neighbours.